Bay Area Marine can fit a blind or shade to just about any type and size of window with a variety of styles and pricing. Our extensive selection of fabrics allows you to choose not only your favorite color, design and texture, but also the degree of light filtration and privacy you need. We have a wide selection of styles to choose from.
Whether you are looking to improve cabin privacy, control light transmission or simply keep the insects out, Bay Area Marine has elegant window treatments that will delight even the most discriminating boat owner.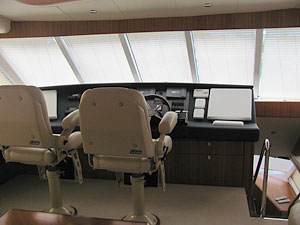 Oceanair Skysol pleated blinds installed in 73 ft. Maritimo Flybridge

See more examples below


A breath of fresh air for interior spaces
Beauty and practicality live together harmoniously at Bay Area Marine. With custom-designed on-board marine window treatments, your interior is transformed into an exquisite, inviting décor that assures privacy, precise light control, energy efficiency and UV protection.
Call Michael Hunt for stylish, effective interior shading solutions:
727-510-2907